Contemporary Literary Review India | eISSN 2394-6075 | Vol 2 No 3: CLRI August 2015
Poems by Saima Afreen
Blue
---
Time has become too old
Even for history
Here - Dust it off
From window pains
Polished planets
Have played
Chinese Checkers
For too long!
From an empty
Glass square
A rusted season
Has fallen on
The wrinkled
Log hours
With bullets
for fruits
and shelter
in dead leaves!
Climb! Climb!
Up! Up and up!
Pluck the rainbow
Even though
It is half of a circle…
Open its Blue
Carefully
For your
Sky is Lost
Find it in the long winter sleeves
Of your pherans
ice will soon cover you
The red explosions
Will turn you
Into
news-bleached
Bricks.
For Shakuni
Below the reign of pollen
Is a staircase where an
Ampersand awaits.
and i throw the bones
of my forefathers
On the dusty Game Board
The dice cracks
o p e n – an atlas where
history
b
l
e
e
d
s
Cartilage boils to your whispers
Carthage and Hastinapur wake
In the slipping satin from
The tips of Time
And in the nucleus of sapphire
King Priam was already r i d i n'
on the minutes dripping
From the veins of crown
Shedding jungles of gold
Now a cluster of anemone
You decorated the slave girl's
Hair with.
Did the moving stars not tell you
Termites will be the wise ones
with screeches of chariots - lost
digested, safely
In their bellies?
---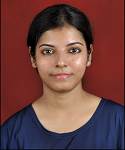 Saima Afreen defines herself as she does not know much about herself. She has not yet reached the field where she can find herself and write a bio. Calcutta is where she grew up, smelling shiuli flowers and chewing different syllables.
---
Get Your Book Reviewed: If you have got any book published and are looking for a book review, contact us. We provide book review writing service for a fee. We (1) write book review (2) publish review in CLRI (3) conduct an interview with the author (4) publish interview in CLRI.
https://literaryjournal.in/index.php/clri/rev
Contemporary Literary Review India: Contemporary Literary Review India (CLRI) is a literary journal in English and publishes a wide variety of creative pieces including poems, stories, research papers (literary criticism), book reviews, film reviews, essays, arts, and photography of the best quality of the time. CLRI is an internationally referred journal and publishes authors from around the world.
https://literaryjournal.in
Leaf Press: Leaf Press publishes books, anthologies and academic books with ISBN. We bring out books in paperback, digital and PDF formats. We specialize in publishing English literary books including fiction, story and poetry anthologies, PhD thesis papers and critical analysis. We welcome new authors. Visit our website
http://leafpress.in
.
Authors & Books: We publish book releases, Press Release about books and authors, book reviews, blurbs, author interviews, and any news related to authors and books for free. We welcomes authors, publishers, and literary agents to send their press releases. Visit our website
https://authornbook.com
.