Contemporary Literary Review India | eISSN 2394-6075 | Vol 3, No 1: CLRI February 2016
Daniel de Cullá
Arts
---
Picture 1
Picture 2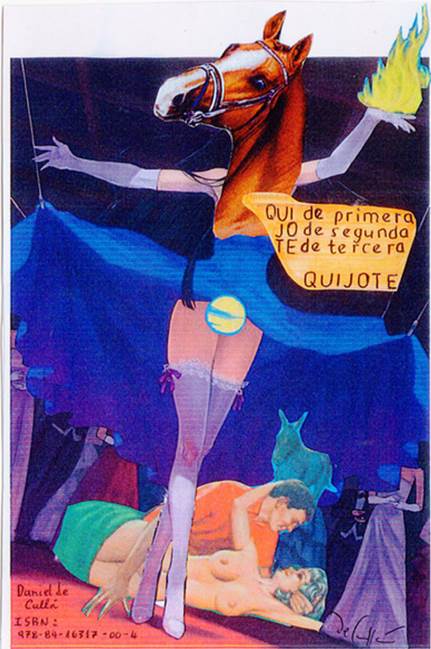 Picture 3
Picture 4
Picture 5
---
Daniel de Cullá (born 1955), is a poet, writer, painter and photographer. He is a member of the Spanish Writers Association and the Founder-Editor of the reviews of BodyArt, Art and Culture GALLO TRICOLOR and ROBESPIERRE. He participates in Cultural Acts of Theatre and Performance. He has living between Burgos, Madrid and North Hollywood.
---
Get Your Book Reviewed: If you have got any book published and are looking for a book review, contact us. We provide book review writing service for a fee. We (1) write book review (2) publish review in CLRI (3) conduct an interview with the author (4) publish interview in CLRI.
https://literaryjournal.in/index.php/clri/rev
Contemporary Literary Review India: Contemporary Literary Review India (CLRI) is a literary journal in English and publishes a wide variety of creative pieces including poems, stories, research papers (literary criticism), book reviews, film reviews, essays, arts, and photography of the best quality of the time. CLRI is an internationally referred journal and publishes authors from around the world.
https://literaryjournal.in
Leaf Press: Leaf Press publishes books, anthologies and academic books with ISBN. We bring out books in paperback, digital and PDF formats. We specialize in publishing English literary books including fiction, story and poetry anthologies, PhD thesis papers and critical analysis. We welcome new authors. Visit our website
http://leafpress.in
.
Authors & Books: We publish book releases, Press Release about books and authors, book reviews, blurbs, author interviews, and any news related to authors and books for free. We welcomes authors, publishers, and literary agents to send their press releases. Visit our website
https://authornbook.com
.