Contemporary Literary Review India
| Print ISSN 2250-3366 | Online ISSN 2394-6075 | Impact Factor 8.1458 | Vol. 8, No. 1: CLRI February 2021
Dhanesh Sebastian
The Middle Finger
We are the sons of Pandu, yet mothered by Venus.
We dwell at the foot of the mount of Venus.
Yudhishthira the thumb, the head of the Chiro dynasty.
Bhima the Pointed one, the self-assured being.
I, Arjuna at the middle, the courageous and righteous.
Then come Nakula and Sahadeva - the Ashvineya.
This is my story - the story of the abandoned.
I am least loved and not adorned with precious jewels or rich metals.
In my family, I am the tallest, bravest and inevitable.
Some abduct my brothers in reasons and seasons.
The eldest dwarf Thumb is called forth for approval or rejection.
The forefinger, still elder, is over-concerned about others-
Their faults, follies and prudence.
I am the third son of my parents - a victim of foolishness and stupidity.
I am more misunderstood than understood.
Though i am a son of Pandu and Venus; Vulgarity looked after me.
Thus my veins carry it in and through.
I give orders, especially to scram.
My younger brothers are receptive,
And thus receive freebies for being fair.
Though separable we are; we are inseparable.
We are one in prayer- the sign of the Cross, though the eldest leads the rest.
Folded hands make us united and it's the gesture of prayer.
We, in unison, can give everyone a salute or namasthe or a handshake.
But what can i alone give everyone?
Its only a salute- the middle finger salute!!!
---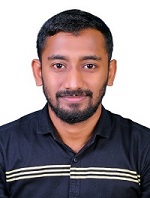 Dhanesh Sebastian
is an Assistant Professor, Department of English, MES College Marampally, Aluva, Kerala. He is also a Master Trainer of ASAP (Additional Skill Acquisition Programme, Govt. of Kerala). He worked as a
Senior HR cum Corporate Trainer
at IIHR-HR Global Services India LLP. He is an
Editor
of two reputed international journals
*International Journal of English Research
*
and
*World Journal of Humanities and Social Sciences
*
(WJHSS) of Melange Publications. He is a poet, writer and a critic and his papers have been published in several international journals.
---
Get Your Book Reviewed
If you have a book review on a book, send it to us. We will publish it free. We don't charge any fee for publishing. The quality of your article will decide whether your article will be published. If you want us to review your book, we charge for this. We have a good number of review writers with us. We have different review writers for books of different genres. Our reviews are gaining recognition among the publishers, journals and academia for fair and high quality reviews. Write to: clrijournal(at)gmail.com
Contemporary Literary Review India