Announcements
2020-10-08
2020-09-14
2020-07-20
2020-06-20
Current Issue
Vol 8 No 1: CLRI February 2021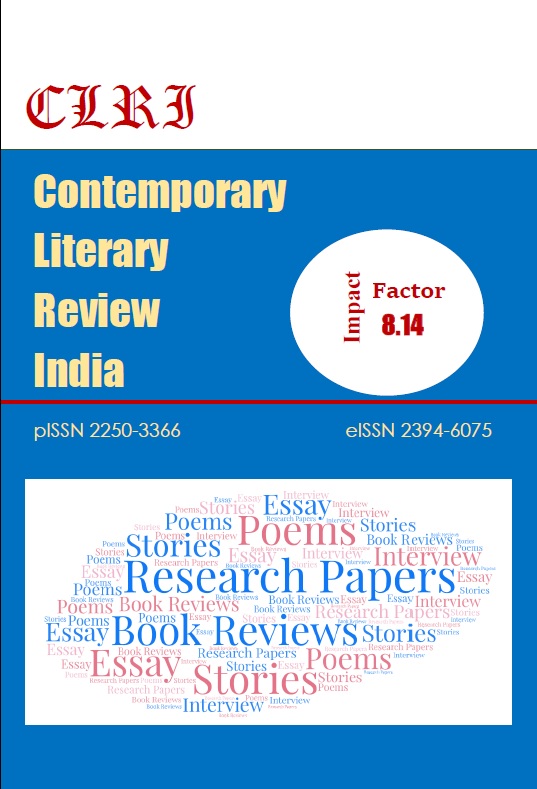 CLRI February 2021: Vol. 8, No. 1 brings to you a beautiful collection of RESEARCH PAPERS by Dr. Aloka Patel, Anamika Kamal, Ananya Bhardwaj, Dr. A. Savitri, Dr. Dalip Khetarpal, Hemanth Kumar, Dr. Katta Rajamouly, Krupa Shah, Leena Sharma, Liya Elsa Sabu, Dr. Rachna Davi, Dr. Ronny Noor, Sumitra Dahiya; STORIES by Debasish Banerjee, Sambit Patnaik, Swapnil Bhatnagar; POEMS by Dr. B.H.S. Thimmappa, Bupinder Singh Bali¸ Christine Wishnoff, Dhanesh Sebastian, Joanna George, Priyanka Sharma, Poulomi Saha, Raad Kareem Abd-Aun, Srijani Dutta, Subrata Sinha; BOOK REVIEWS on Eshwarmurthy G Pillai's Hang on: A Second Wind (Dr. Anmol), Navtej Sarna's The Exile: A Novel (Arshdeep Singh), Lawrence Dreiser's Freedom from Fear (Dr. B.H.S. Thimmappa), Teresa Rehman's The Mothers of Manipur (Shubhangi Kansal).
View All Issues
Contemporary Literary Review India (CLRI) is at par with UGC's list of approved journals as per new notification. University Grants Commission (UGC) gives dues credits for Academic Performance Indicators (API) scoring to the research papers published in refereed journals or non-refereed but recognized and reputable journals and periodicals, having ISBN/ISSN numbers. CLRI is a peer-reviewed and internationally referred journal. In September 2018, the UGC has approved all peer-reviewed journals at par with its approved list of journals.
CLRI is listed with several reputed journal directories and has applied to many others including DOAJ and SCOPUS.
CLRI is an open access (OA) journal with high Publication Impact Factor. It does not charge any reading fee or publishing fee for the online edition.
To know moore about CLRI, please see About the Journal.
To know about new announcements, see here. For submission guidelines, see here.
CLRI is on Facebook, LinkedIn, Twitter, YouTube and other social media.
Join our newsletter for free