Announcements
2020-10-08
2020-09-14
2020-07-20
2020-06-20
Current Issue
Vol 7 No 4: CLRI November 2020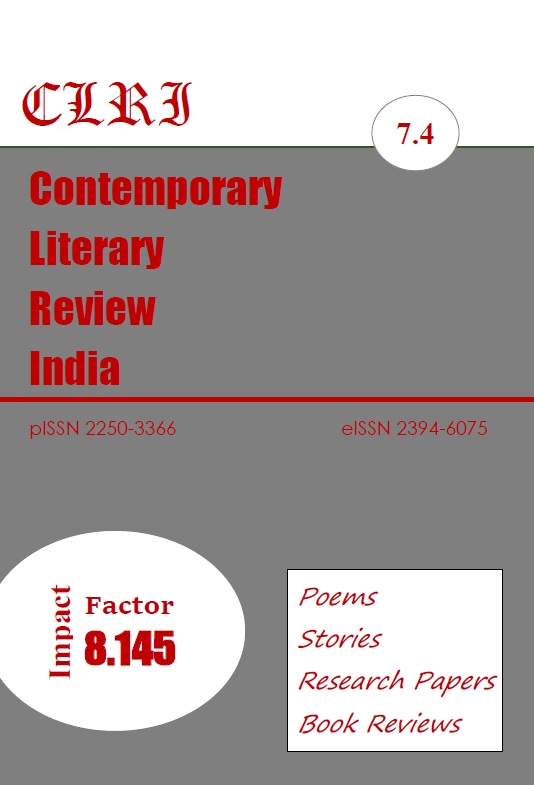 CLRI November 2020: Vol. 7, No 4 brings to you a beautiful collection of RESEARCH PAPERS by Ahsan Ul Haq, Anchal Bhutani, Akshata Kapoor, Dr Anmol¸ Asma Siddiqui, Azhar Nawaz, Bimal Kishore Shrivastwa, Dr Katta Rajamouly, Mehak Burza, Sher Haidar Khan¸ Dr T Radhakrishna Murty, Sarfaraz Ahmad Farooque, Vinayak Yashraj & Dr Priyanka Tripathi; STORIES by Debasish Banerjee, Dr Katta Rajamouly, Dr Ratnottama Das Bikram; ESSAY by Dr Chitra Seshadri; POEMS by Alessio Zanelli, Anila Anandan, Hajira Irfana, Dr Nagamani Balantrapu, Ravi Teja Mandapaka, Renjitha Reghunath, Sakshi Kumar, Sarthak Chauhan, Ujjal Mandal; BOOK REVIEWS by Dr Kandi Kamala, Mehak Burza, Tanaya Patil.
View All Issues
Contemporary Literary Review India (CLRI) is at par with UGC's list of approved journals as per new notification. University Grants Commission (UGC) gives dues credits for Academic Performance Indicators (API) scoring to the research papers published in refereed journals or non-refereed but recognized and reputable journals and periodicals, having ISBN/ISSN numbers. CLRI is a peer-reviewed and internationally referred journal. In September 2018, the UGC has approved all peer-reviewed journals at par with its approved list of journals.
CLRI is listed with several reputed journal directories and has applied to many others including DOAJ and SCOPUS.
CLRI is an open access (OA) journal with high Publication Impact Factor. It does not charge any reading fee or publishing fee for the online edition.
To know moore about CLRI, please see About the Journal.
To know about new announcements, see here. For submission guidelines, see here.
CLRI is on Facebook, LinkedIn, Twitter, YouTube and other social media.
Join our newsletter for free