Situating Tanure Ojaide's The Tale of the Harmattan: History, the environment, socio- economic and political concerns, and orature
Dike Okoro

Northwestern University, USA
Keywords:
literary journals India, online English research journal, research papers publisher, UGC approved journal, High impact factor journal, Peer reviewed literary journal
Abstract
Tanure Ojaide's book of poems, The Tale of the Harmattan (2007), offers poetry readers and those familiar with his opus a critical insight of the dismal socio-political and economic conditions of Nigeria's Niger Delta region. Oil exploration and its devastating effects on the environment and the human family form the bulk of the poet's concerns. The poems range in style and form; however, what makes the collection a publication of substance is the poet's ability to examine contemporary issues with the eyes of a witness and the sincerity of one driven by empathy. This essay focuses on the poet's selection of themes and the historical, cultural, and political contexts of his poetry. More importantly, I argue that Ojaide employs bold rhetoric and an assortment of techniques to assert the importance of his persona as an eyewitness to historical happenings, especially the destruction of the Niger Delta's ecosystem and environment as a result of oil exploitation and the marginalization of the ethnic minority people in whose land oil is exploited.
Keywords
Exploitation, harmattan, oil, Kaiama, Niger Delta, ecosystem, Egbesu boys, minority, Ken Saro-Wiwa, expatriates.
Downloads
Download data is not yet available.
References
1. Awoonor, Kofi (ed.). Guardians of the Sacred Word: Ewe Poetry. New York/London/Lagos: NOK Publishers, 1974).
2. ---. "Contemporary Samples of English-Speaking African Poetry." The Breast of the Earth: A Survey of the History, Culture, and Literature of Africa South of the Sahara. (New York: Anchor/Doubleday, 1975). 193-225.
3. Brown, Stewart. "The Pleaded Grace of Song-Wole Soyinka and Nigerian Poetry." Summer 2002. 26 June 2006. http://www.poetrysociety.org.uk/review/pr92-2/brown.htm
4. CommonDreams.org: News Center. "Nigerian Women End "Stand-Off" with Oil Company." Inter Press Service. 19 July 2002. 25 Nov. 2007. http://www.commondreams.org/headlines02/0719-03.htm.
5. Dickinson, Emily. Poem 1651. The Complete Poems of Emily Dickinson. Ed. Thomas H. Johnson. (Boston: Little, 1960). 675-76.
6. Habila, Helon. "The African Writer: Facing the New." 2 July 2005. 9 Aug. 2006. http://www.sabdet.com/aegis2005habila.htm.
7. Lent, John. Introduction. "From This Hurt to the Unquestioning World": Seven Poems From Delta Blues." Ken Saro-Wiwa: Writer and Political Activist. Eds. Craig W. McLuckie and Aubrey McPhail. (Colorado: Lynne Rienner, 2000). 215.
8. Maini, Darshan Singh. "Corruption India Inc: Glittering march to globalisation." The Tribune 23 Mar. 2000. 14 Apr. 2005. http://www.tribuneindia.com/2002/20000323/edit.htm.
9. Newell, Stephanie. "Marxism and West African Literature." West African Literatures: Ways of Reading. (Oxford: Oxford University Press, 2006). 164.
10. Okuyade, Ogaga. "Resistance to Tyranny: The Representation of Government in Recent African Poetry." English. Dept. home page. Otago University. 20 Nov. 2007. http://www.otago.ac.nz/DeepSouth/resistance01.html.
11. Ojaide, Tanure. "The New Poetry in English: Content and Form." Eds. Tanure Ojaide and Joseph Obi. Culture, Society, and Politics in Modern African Literature. (Durham: Carolina Academic Press, 2002). 142-143.
12. Ojaide, Tanure. The Tale of the Harmattan. (Cape Town: Kwela/Snail Press, 2007).
13. ---. Poetic Imagination in Black Africa. (Durham: Carolina Academic Press, 1996). 42.
14. ---. "The Poetry: Song in a Time of War." Ken Saro-Wiwa: Writer and Political Activist
15. Eds. Craig W. McLuckie and Aubrey McPhail. (Colorado: Lynne Rienner, 2000).
16. ---. The Fate of Vultures and Other Poems. Lagos: Malthouse Press, 1989.
17. The Online NewsHour: Crisis in Sudan: PBS: "The Darfur Crisis: 'Sudan's Janjaweed Militia.' 27 Feb. 2003. 12 Nov. 2007. http://www.pbs.org/newshour/indepth_coverage/africa/darfur/militia.html.
18. Wa Thiong'o, Ngugi. "For Peace, Justice, and Culture: The Intellectual in the Twenty- First Century." Profession 2006. (New York: MLA, 2006). 38-39.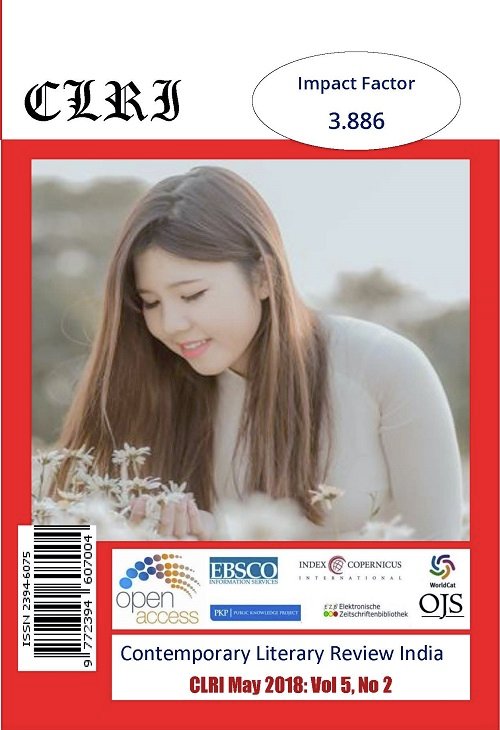 How to Cite
Okoro, D. "Situating Tanure Ojaide's The Tale of the Harmattan: History, the Environment, Socio- Economic and Political Concerns, and Orature". Contemporary Literary Review India, Vol. 5, no. 2, May 2018, pp. 18-61, doi:10.201411/clri.v5i2.56.
Copyright (c) 2018 Dike Okoro
This work is licensed under a Creative Commons Attribution 4.0 International License.
Before you submit your article, you must read our Copyright Notice.