Folkloric and Psychological Implications of Animal Characters in the Works of Edgar Allan Poe
Debabarnine Bhattacharya

None
Keywords:
Non-Human characters, folklore, psychology, consciousness
Abstract
While humanity has eternally been foregrounded as the primary subject of fiction, the place of non-human characters has not necessarily dwindled into oblivion. Time and again they have resurfaced, have made their presence felt in an assortment of ways, and have waged a war to exert their dominion over the intricate workings of the reader's consciousness. Their purpose in certain narratives, as this paper will attempt to elucidate, is two-fold. In that, while on the one hand, authors often employ these entities whose existence is rooted in the annals of folktales and legends, on the other their actual repercussions on any given text borders heavily on the domain of the psychological. In the course of such narratives these two strands---folkloric and psychological, merge inextricably as the non-human entity comes alive on the pages of literature with an almost preternatural vitality. In order to explicate this aspect of such characters, this paper will attempt to analyze certain works of Edgar Allan Poe from a folkloric and psychological perspective, works which bear testimony to the enduring lure of the supernatural that still remains in this modern world.
Downloads
Download data is not yet available.
References
Books and articles
1. Bylund, Maria. "The Rise of the Underworld: Felines, Mythology and Psychology in Edgar Allan Poe's The Black Cat". 2012. https://gupea.ub.gu.se/bitstream/2077/32591/1/gupea_2077_32591_1.pdf
2. Poe, Edgar Allan. "Metzengerstein". North American Literature, Edgar Allan Poe Collection. https://onemorelibrary.com/index.php/en/books/literature/book/north-american-literature-176/metzengerstein-661
3. Poe, Edgar Allan. "The Black Cat". Greatest Works of Edgar Allan Poe, Fingerprint! Classics, 2018, pp. 260-269.
4. Poe, Edgar Allan. "The Raven". Greatest Works of Edgar Allan Poe, Fingerprint! Classics, 2018, pp. 68-74.
5. Smith, Grace P. "Poe's Metzengerstein". Modern Language Notes, vol. 48, no. 6, June 1933, pp. 356-359. JSTOR. https://www.jstor.org/stable/2912532

Websites
1. "Mythology and Folklore of the Raven". Trees For Life, 26 Feb, 2021: https://treesforlife.org.uk/into-the-forest/trees-plants-animals/birds/raven/
2. "Raven and Mythology". Hanford Reach National Monument, 26 Feb, 2021: https://www.fws.gov/refuge/Hanford_Reach/Wildlife_Habitat/Ravens.html#:~:text=Ravens%20figure%20heavily%20in%20Celtic,giant%20protector%20of%20the%20Brits.
3. Syufy, Franny. "Myths and Superstitions About Black Cats". The Spruce Pets, 25 Feb, 2021: https://www.thesprucepets.com/black-cat-folklore-554444
4. Wigington, Patti. "Horse Magic, Folklore and Legends". Learn Religions, 25 Feb, 2021: https://www.learnreligions.com/horse-magic-folklore-and-legends-4030574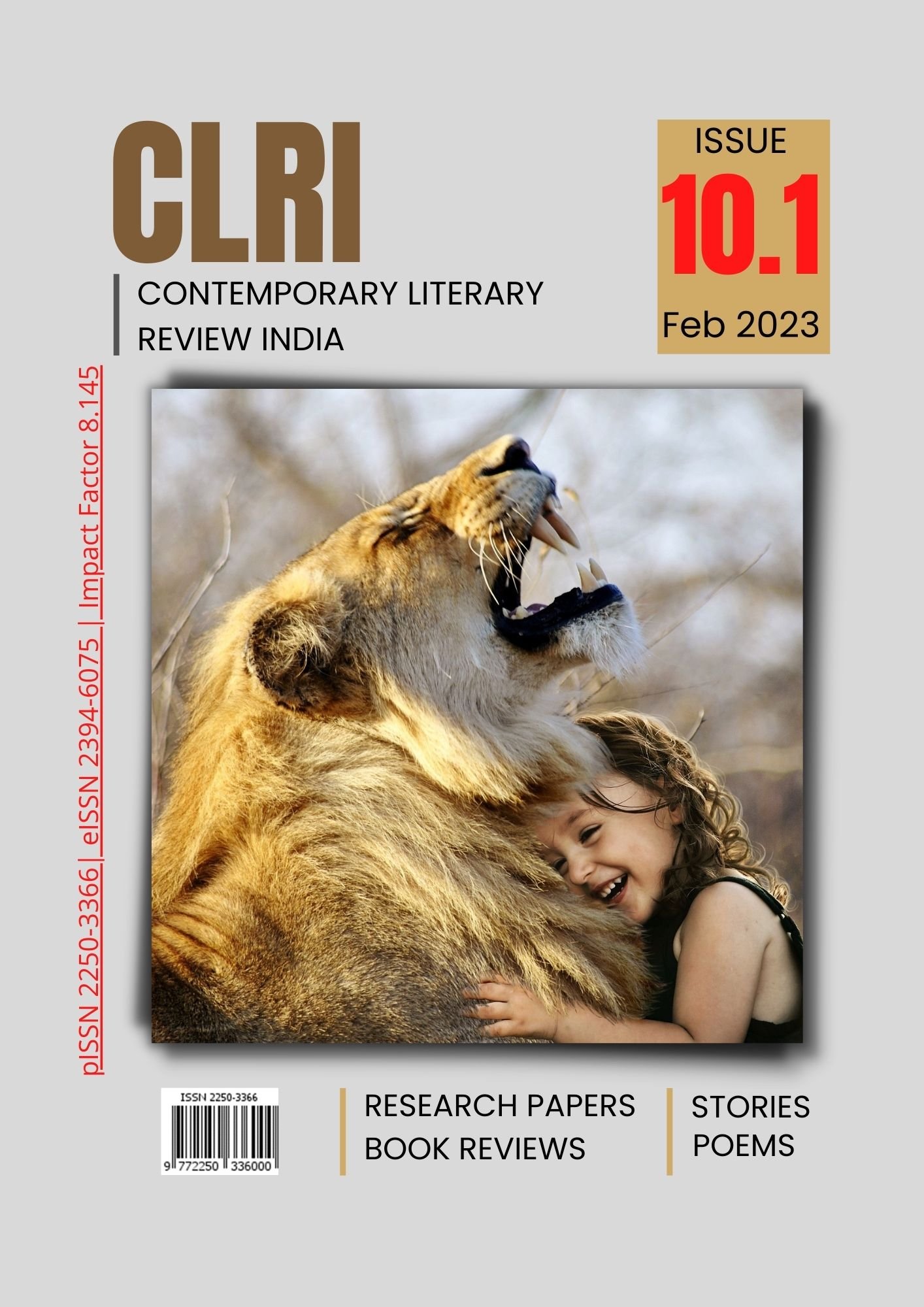 How to Cite
Bhattacharya, D. "Folkloric and Psychological Implications of Animal Characters in the Works of Edgar Allan Poe". Contemporary Literary Review India, Vol. 10, no. 1, Feb. 2023, pp. 69-81, doi:10.201411/clri.v10i1.906.
Copyright (c) 2023 Debabarnine Bhattacharya
This work is licensed under a Creative Commons Attribution 4.0 International License.
Before you submit your article, you must read our Copyright Notice.